¡Oferta!
【Free shipping】20 pcs Disposable KN95 Respirator Fack Masks 5-layer Melt-blown Anti-Pollution Dust($3.5/PCS)
$99.99
Free Shipping with DHL/FedEx, Multiple Delivery Options,Received 2-16 Business days; You are buying a Pack of 20 Facemasks, which equals $3.5/piece.
High filtering ability, extremely low resistance, easy to breathe.
Glue-free and odorless face mask.
CE Approved mask. Our KN95 face masks have been manufactured to EEA standards, and are used by hospitals, medical facilities and health professionals.
Soft and flexible nose bridge can be adjusted to the face.
Helps prevent diseases and infections such as the coronavirus. One of the best face masks for coronavirus.
Descripción
Attention: we all are in stock with large stock, and can 0~24 hours ship for you. Free Shipping, US/ Spain/ German/ France/ Portugal/ UK 8~15 days fast delivery.
 careful other sellers resell or poor quality
This epidemic is global, not for an special area , we should be united to solve it together.
Finally, pray for the World, may everything would be good. We love you.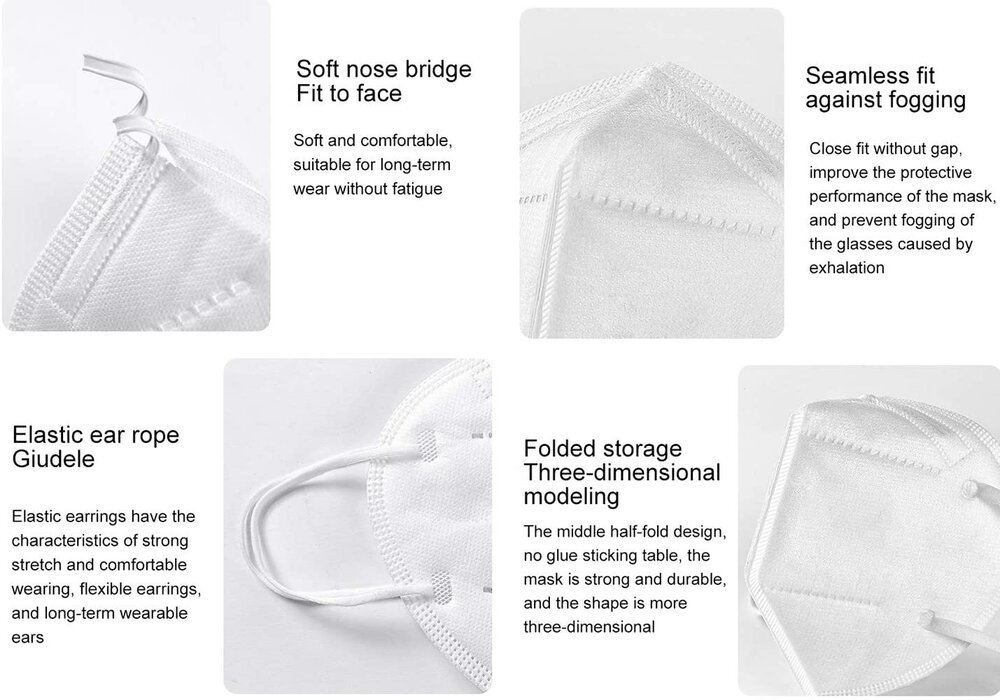 Overview:
The KN95 Face Mask Respirator protection level for dust, smog, and particulate matter. Ideal for petrochemical, chemical, electronics, metal smelting, and processing industries. Soft and flexible breathable, ideal for Sensitive skin allergy.
| | |
| --- | --- |
| | KN95 Face Mask = N95 |
| | GB2626-2006 |
| | 5-layer Non-woven Melt-blown Fabric |
| |  17.5*9.5cm |
| | ISO,CE |
| | Disposable, Soft, Convenient, Antibacterial |
| | 20pcs |
Package list:
Package: 20 x  KN95 face mask (no respirator valve)
Features:
<< Function: 5 layers of protection effectively resist the invasion of harmful substances, protecting against dust, liquids and weather.
<< Good quality: Seal the bridge of the nose improves the adhesion of the item.
<< Comfortable to wear: No falling off, comfortable to wear and the mask is designed with high strength.
<< Wide application: Perfect for machining, automobile making, sports, running, hiking, climbing and so on.
<< Convenient to use: Adjustable nose clip fits the face, fixes the sides of the easily detachable nose wings, helping to isolate the polluted air.
<< Comfortable to wear: The mask is wide enough to cover the nose, mouth and face, it fits for most faces.
< Respirator valve: Independent one-way breathing valve effectively reduces respiratory resistance.
Solo los usuarios registrados que hayan comprado este producto pueden hacer una valoración.